Video-first customer engagement platform | 24sessions
Add a face to your digital sales and service. Interact with customers in 1 click with our secure WebRTC technology that covers the whole video call journey
With automated scheduling, high-quality video technology, and interactive feedback, 24sessions gives you everything you need to connect with customers online.
For as long as we have codes, you can get your hands on the 24sessions Standard Plan, which includes:
Unlimited video chat meetings for life
Use your own logo and brand colors
Document and screen sharing
Instant post-meeting reviews
Meeting recordings; store up to 2GB for free (~500MB per hour for a video recording)
Up to 6 people in one meeting room/video chat
Automatic meeting confirmations and reminders
Calendar integration (Office 365, Outlook, Google Calendar, etc.)
Smart booking and live now forms
Zapier integrations for applications like Slack, Salesforce, or Hubspot (coming soon)
The 24sessions platform is currently available in English and Dutch
25% discount on all future users for life!
Usually, this plan goes for $360 a year.
However, if you get your butt in gear and beat your fellow Sumo-lings to the punch, you can get lifetime access for just $69!
This phenomenal, all-in-one video solution will not be here long.
Unleash the power of video chat now!
These Sumo-lings are getting up close and personal with clients thanks to 24sessions: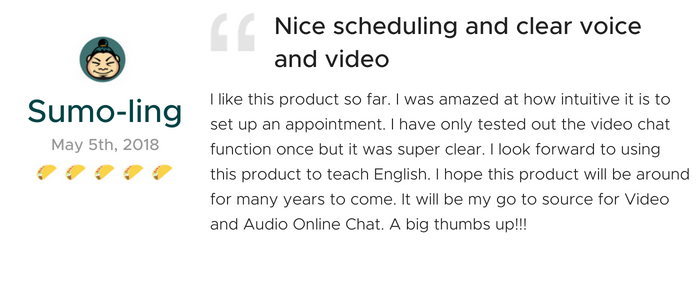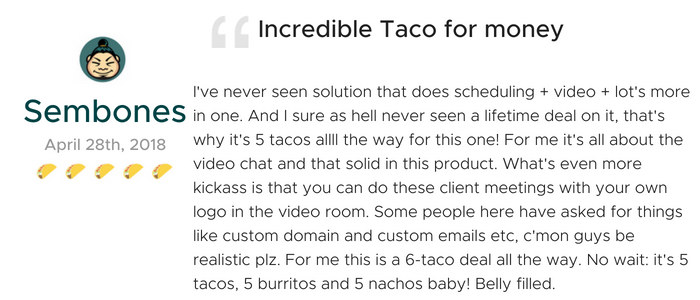 Thanks to easily embeddable booking forms, customers can schedule meetings instantly.
Once a meeting is scheduled, 24sessions syncs your appointments into Office365, Outlook, or Google calendars. (It even takes care of rescheduling.)
All customers need to do to enter a high-quality video chat with you is input the booking code into the 24sessions website or mobile app. (No one needs to download extra software.)
With the ability to record chats and obtain feedback, 24sessions gives you the intel you need to improve demos and service.
Additional software, the constant emailing to schedule, and unreliable video technology are just not cutting it anymore.
You need a better way to connect with customers.
And 24sessions is the answer.
Get lifetime access for just $69 before we run out of codes.
I love it 🎶
Market
Homepage
Status
SELLING
TLDR
Related deals