AI-Powered Creative Management Platform | Creative Automation Platform | Rocketium
Rocketium is a complete, AI-powered creative management platform to build, iterate, collaborate and go live with marketing campaigns that help businesses acquire customers with ads, convert with In-App content and engage with rich media push notifications.
If you like paying videographers tons of money or using complicated video tools that take months to learn, then you'd hate Rocketium.
But if you're like these Sumo-lings, you know Rocketium is the answer to quickly create engagement boosting videos.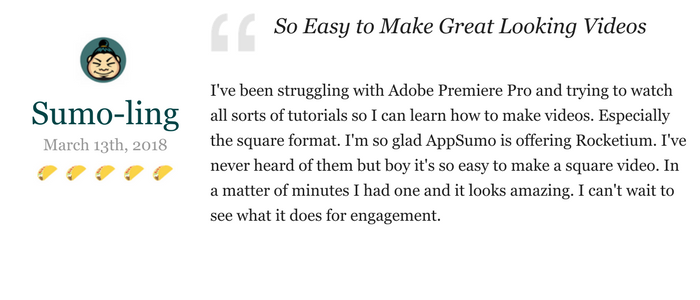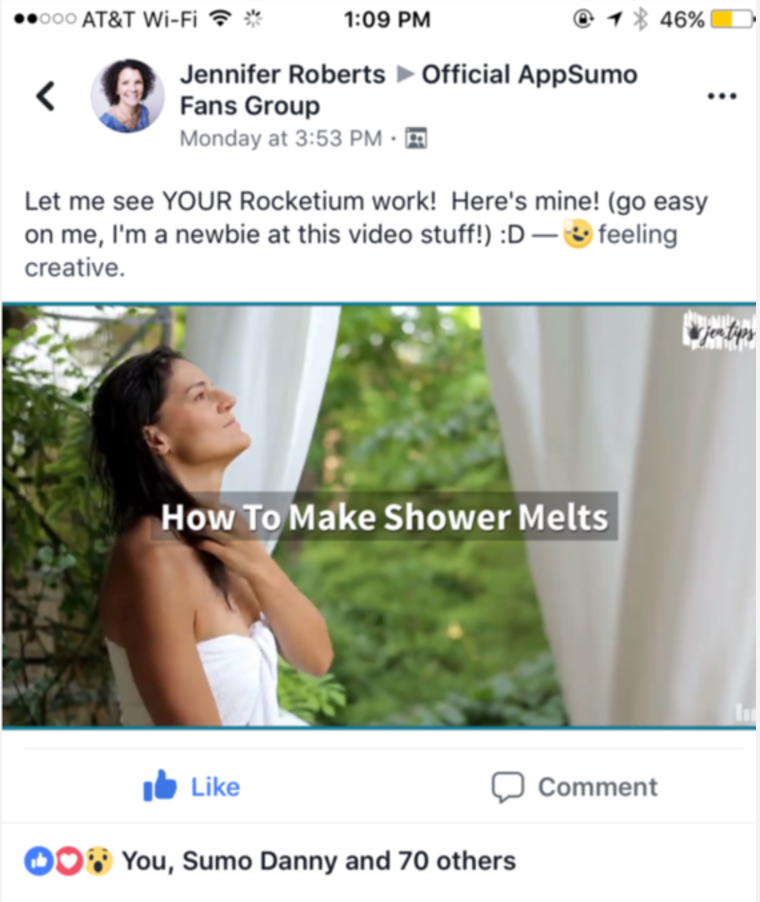 In fact, so many Sumo-lings are loving Rocketium that they've almost cleaned out our entire stash of codes! (We have less than 1,500 codes left!)
Rocketium is online software that uses images, clips, audio, and articles to help you create videos in minutes and drive social up your social engagement.
Currently, Sumo-lings have access to a Rocketium deal that can't be found anywhere else.
This special deal is a blend of their Professional Plan and Business Plan, which includes:
The ability to add your logo
5 team members (work collaboratively along with sharing assets, custom themes, and other settings)
40 images or clips per video
120 seconds per clip or audio
300 characters per caption
And other impressive features like custom text sizes, bumpers and lower thirds, subtitle timing, per-caption style customizations, and reseller rights
This unicorn of a plan should cost you $948 a year.
But we're offering you lifetime access for just $49!
All you have to do is beat your fellow Sumo-lings to the checkout page!
Drive engagement with simple-to-make videos now!
Rocketium's beginner-friendly interface helps you create and resize videos without professional tools (or the steep learning curve!)
With one-click intelligent resizing, videos can be converted into portrait, square, or landscape orientations—meaning, every social media platform is covered.
You can also save a ton time by saving styling choices as custom themes and by cloning videos and scenes.
But just because you're efficiently cranking out videos at Jimmy Johns delivery speeds, don't you dare think you're sacrificing stylishness.
Oh no, no, no, Sumo-ling. Your videos will still be fly thanks to 25+ styling options (fonts, motion graphics, colors, etc.), 30M+ images, 100,000+ video clips, and 500+ music tracks — all of which are copyright free. (You can also import personal media, voice-overs, and music.)
When it comes to driving engagement, static images aren't cutting it anymore.
If you want your social engagement to skyrocket, you need to create videos with Rocketium!
Get lifetime access for just $49 before we run out of codes.
12x your social engagement with Rocketium now!
P.S. Let's have some fun. Post a link to your Rocketium video in the comments section. Our favorite video wins a $100 AppSumo gift card. Link to your video must be submitted by March 28th, 2018.
I love it 🎶
Market
Homepage
Status
SELLING
TLDR
Related deals